Your Home Story Episode 8: Consistency Throughout a Home
This is a question I've been trying to get confident in for a long time. We've had opportunities to do two houses from scratch (our new construction townhouse and then our fixer upper that we stripped/did all at once) and it's a LOT of pressure to pick lighting, hardware, window treatments, paint, and of course decor for a whole house at once. I grew up in a historic house that my parents fixed up room by room, and it's very different than a new build where all the light fixtures are the same boring metal.
So this has been a big question for me! How consistent should a home be from room to room? Lighting, trim colors, hardware, even decor style! What's the balance between builder-basic-boring and hodge podge? How do you make it look cohesive, decorated by the same person, without making it look sterile?
We talk all about that on the episode this week!
We talk about Ashley's experience in her 3,800 SF split-level home--she's been working on it for years and some spaces and elements are more consistent from room to room than others.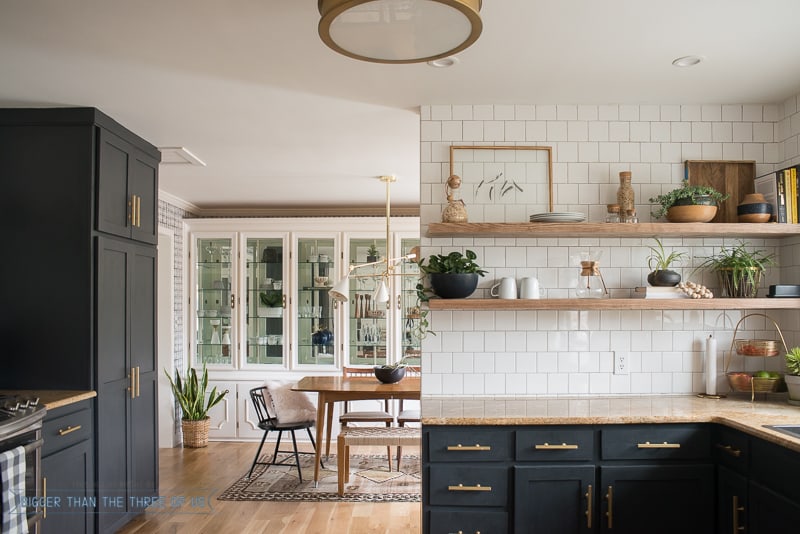 My experiences... we upgraded some of the features of our townhouse, like statement light fixtures instead of more brushed nickel builder special drop boob lights, but it was pretty consistent throughout--and always looked like new construction without a lot of personality.
This bathroom was always so boring!
In the
Stanley 90's reno
, we painted everything white to start with a clean slate, and paint all the trim at once really helped. We did black hardware on the doors and ended up with black lighting fixtures in most rooms (or brushed brass). But I put different decor in each room and I think it ended up feeling cohesive but also special!
In the podcast we talk about what you can use to create a cohesive look, and where you can express more style.
Flooring
Paint color
Light fixtures
Metals/mixing metals
Doors and door hardware
The soft stuff--pillows, accents like leather, etc.
And of course, when you might want to do that versus do a new look in different rooms.
Tune in in iTunes or your favorite podcast player, or play the episode here!