Sewing Circle: Simple Madewell and Anthro dress
Today's
Sewing Circle
gets at DIY-ing a very favorite dress, as I can tell--I've received
several
emails/Facebook messages about making this classy, simple Madewell dress or very, very similar J.Crew and Anthropologie ones. So in addition to Leah and Vicky, who sent in these questions, hopefully my post will help lots and lots of you!
Asks Leah...
Q: I love this Madewell dress so much. I even tried it on in the store but I can't imagine spending over $100! I just bought some navy and cream striped cotton and I'd love to try to make it. Can you help me with the pattern?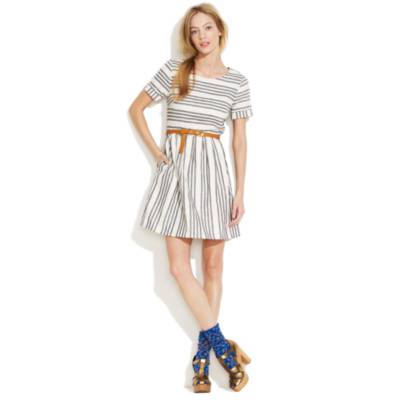 A:
Luckily, that cute dress is super easy to make at home and there are a couple near-perfect patterns out there. I would recommend the basic bodice and the skirt from
this pattern
(the skirt is just two rectangles sewn together and pleated, no pattern needed, but just in case):
...although
this pattern
is close as well (but has angled front darts) and has the right shape of sleeve. You could even get both next time Simplicity patterns are on sale for 99 cents at JoAnn! The sleeve from one would work on the bodice of the other. Check your pattern stash for a similar dress sleeve just in case, as well.
You can create the cuff on the sleeve yourself if you want, just by making the sleeve extra long and lining it with self-fabric (so cut out 4 sleeve pieces instead of 2, and sew right sides together at the bottom), then fold the cuff back and press—and tack down by hand in a couple places if you want.
To get the cool varying stripe direction look, cut the bodice and sleeves according to the pattern directions but cut or tear the skirt sideways so your stripes go side to side! I guess it depends which way your fabric is woven or printed but I feel like usually the stripes on striped fabric go perpendicular to the selvage.
And, part 2 of this
Sewing Circle
... question from Vicky about something so similar!
Q: I'm absolutely in love with the Scalloped Stripes Dress from Anthropologie. I really like the longer sleeve length at the moment. Plus the dress looks super comfy. Unfortunately it's also a little out of my price range. Do you have any suggestions on the best way to make this? What fabric to use? A pattern? Do you think the lines are sew on or part of the material?
A:
You're in luck, Vicky! It's a super easy and fun style to make, and I'd recommend the patterns from above. The Anthro one is a knit, so you could make it of a heavy 100% cotton knit if you can find one, and if you do that I'd suggest lining the bodice with self fabric or with a lighter weight cotton knit.
To make the cuffs, cut the fabric sideways (against the grain) for the perpendicular stripe look. Pleat the skirt with those box pleats for an almost identical look! Will be very cute and preppy for summer!
Okay, readers, what tips would you give Leah and Vicky?? Are you also totally in love with these cute, simple looks? Have you seen the perfect sleeve and cuff pattern?!