My favorite room makeovers from the fall 2018 One Room Challenge
If you've been following along on this blog the past 6 weeks or so, you know I just
redid our master bedroom
for the fall 2018
One Room Challenge
. More than 200 other designers and bloggers did the ORC this season and there are some really good ones! I rounded up my faves here!
This
kitchen by Vanessa Francis
is so simple and elegant. I love a classic black and white! And that table, I would love one like that in our breakfast nook!
Emily of
The Sweet Beast's master bedroom
. You will see this one on a lot of favorite fall ORC round-ups. It is VERY GOOD. She BUILT that fireplace from scratch; that rug covers almost the whole long room, those curtains are IKEA with a DIY pinch pleat, and of course the styling and photography are excellent. A spot as a featured designer in the next ORC is well-deserved for Emily!!
Bre at
Brepurposed
(featured designer) did her living room (with 2-story fireplace!) and dining room. I LOVE THEM. This is the neutral-heavy modern look I gravitate toward and would totally do if I had a newer house. Bre mixed high- and low-end pieces but I have never seen a (relatively) amateur designer/blogger pull off this look so well! It could be done by the fanciest and coolest of LA interior design houses!
Kristina Lynne's kitchen.
It is absolutely perfect! Fresh but not too modern, light and bright but not at all bland, very functional... she did an amazing job!
Dream basement right here. By
Dorsey Designs
.
Jenn from Eleven Houses did an amazing
office reno
--you HAVE to see the "before," it's unbelievable! Gives me hope for vintage paneled rooms everywhere!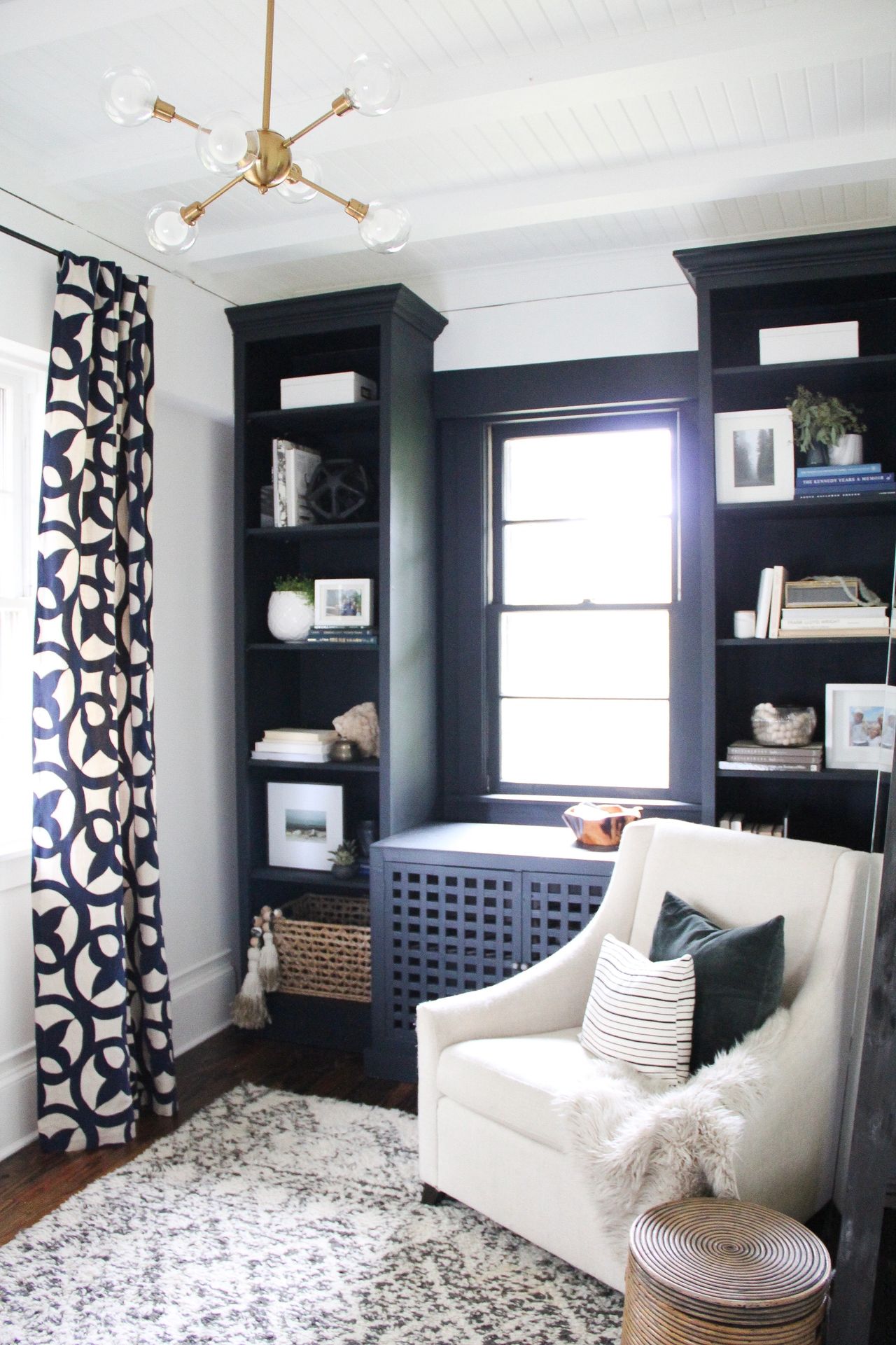 The Grit and Polish have
another fabulous kitchen
under their belts, this one at a converted garage apartment. It's so moody and cool! I love how they use art in their kitchens, and I LOVE that DIY hood! I watched this remodel closely on their Instagram stories.
This year for the first time, the ORC was open to Instagram-only participants (designers who don't also blog). I love this
sunroom by @shwastyle!
Finally, I LOVE the color palette and vintage-cool vibe of
Lea of Creekwood Hill's media room!
It is so cool to see people all over the world working hard over these 6 weeks to put together a room or space they really love. So energizing to cheer each other on and see the creativity and hard work! I can't want to participate again!